RH-AUDIO Multi-Zone Public Address System Project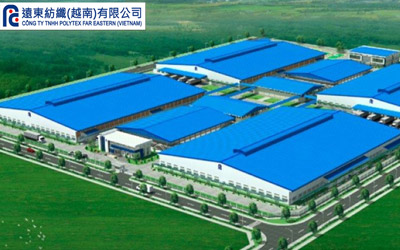 FAR EASTERN Group (Taiwan) with over 60 years of continuous investment and expansion of more than 10 industries nearly 60,000 employees working in more than 10 countries: Taiwan, Chinese, Canada, Hongkong, Vietnam, Singapore, Malaysia, and Thailand.
The US $ 274 million projects of FAR EASTERN Group (Taiwan) is invested by POLYTEX FAR EASTERN (VIETNAM) Ltd., which was started in October 2015 on an area of nearly 100 hectares in Bau Bang Industrial Park, H Bau Bang, T. Binh Phuoc.



The factory pa system includes main features as following:
- Factory timing bell management.
- Remote paging/voice announcement modes (all zones, group zones,or individual zone).
- Background music.
- Voice Evacuation.
The equipment list:
| | | | | |
| --- | --- | --- | --- | --- |
| No. | Model | Brand | Description | Q'TY (PCS) |
| 1 | RH2816RT | RH-AUDIO | 16 Zone Remote Microphone | 4 |
| 2 | RH2816PT | RH-AUDIO | 16 Zone Paging Selector | 2 |
| 3 | RH2813AM | RH-AUDIO | 16 Zone Speaker Selector | 2 |
| 4 | RH2815E | RH-AUDIO | Alarm Interface | 1 |
| 5 | RH2811P | RH-AUDIO | Pre Amplifier | 3 |
| 6 | RH2812CD | RH-AUDIO | CD/USB Player | 1 |
| 7 | RH2813RF | RH-AUDIO | AM/FM Tuner | 1 |
| 8 | RH31500W | RH-AUDIO | Power Amplifier | 3 |
| 9 | RH32000W | RH-AUDIO | Power Amplifier | 3 |
| 10 | RH-CS708 | RH-AUDIO | Waterproof Column Speaker | 30 |
| 11 | RH-TH61 | RH-AUDIO | Ceiling Speaker | 110 |
| 12 | RH-MS15/5 | RH-AUDIO | Wall Mounted Speaker | 80 |