The
Audio Signal Mixing Amplifiers
are designed for background music/paging and public address system installations,these units are exceptional values, and are easy to install in a variety of system designs.
The mixer amplifiers feature three balanced mic. inputs and two line inputs, 60/120/240/350/500 watts of amplifier power are available with either 70/100-volt or 4 to 16 ohms(Ω) loads. Also included a balanced line level output for adding additional power amplifiers.
The unit also features muting function that MIC1 overrides MIC2,MIC3 AUX1,AUX2 with 0~30dB dB attenuation.
And features complete protection is provided for output short circuit,overload,high temperature,peak current limiters.
Widely used for any kind of public areas such as shops,supermarks,shcools,churches,stations,hotels etc.
Front Panel Details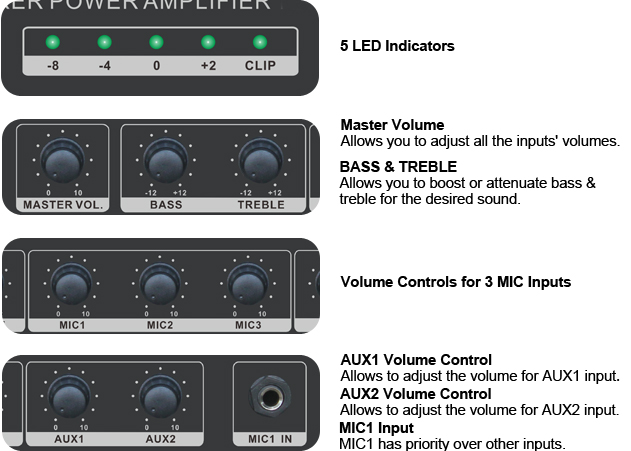 Rear Panel Details

Interior Main Parts

Reference Connection: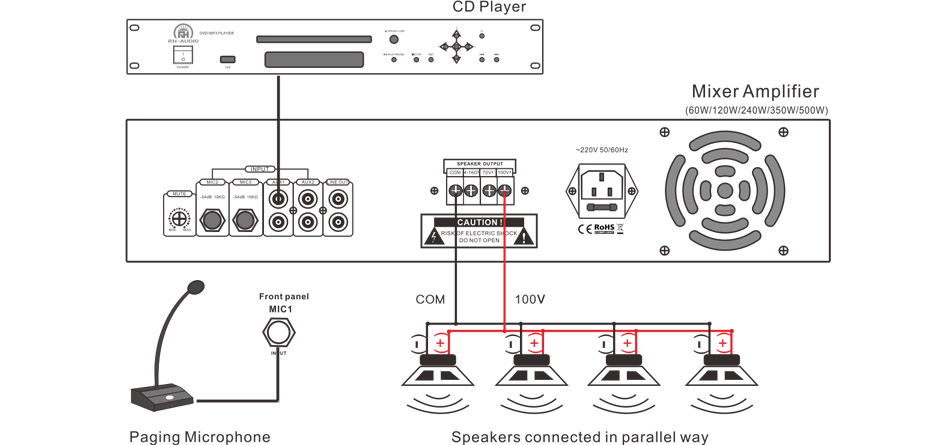 Note:
• 4-16 Ω output drives the speakers based on impedances.
• 70V/100V outputs drive the speakers with built-in step-down transformer.
• Do not use both the 4-16 Ω,70V and 100V terminals at the same time.
• Impedances indicated in the figures represent the total speaker system (load) impedances.