RH-AUDIO 58-Zone Public Address System Project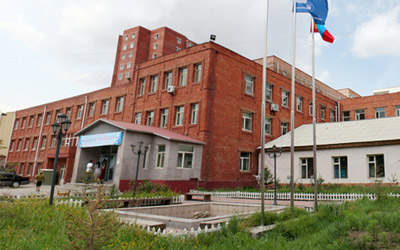 This University consists of two apartment buildings. Located a few blocks from the heart of downtown. The student dormitory is close to the University and can accommodate 500 students. Each unit is furnished and includes a washroom and dining area. There is a cafeteria that seats 300.
And a library that seats 200 within the University. The new expansion also features a new, 80-350 -seat lecture hall equipped with high-tech audio-visual and teleconferencing capabilities. The university is a comfortable environment for students of all forms of education and a high level of knowledge.

The university pa system includes main features as following:
※ Background Music: CD/MP3(USB)/FM/AM audio source are available.
※ Remote Announcement System: The remote paging microphones use a CAT cable connection, communication distance up to 1kms.The user can speak to individual zone, combined zones and all zones at the paging station.
※ Voice Evacuation System: The PA system contacts inputs from fire center or smoke detector to activate the built-in pre-recorded voice message. And the emergency alarm system with the highest priority to override paging and background music, it will broadcast the pre-recorded voice alarm message to all zones.
※ Bell schedule management: The campus PA system can conduct bell schedules pre-set.
The equipment list:
| | | | | |
| --- | --- | --- | --- | --- |
| No. | Model | Brand | Description | Q'TY (PCS) |
| 1 | RH2812CD | RH-AUDIO | CD/USB Player | 1 |
| 2 | RH2813RF | RH-AUDIO | AM/FM Tuner | 1 |
| 3 | RH2805M | RH-AUDIO | MP3 Program Timer | 1 |
| 4 | RH2816S | RH-AUDIO | 16x16 Digital Audio Matrix | 4 |
| 5 | RH2816RS | RH-AUDIO | 16-Zone Remote Microphone | 2 |
| 6 | RH2819A | RH-AUDIO | 30CH Alarm Matrix | 2 |
| 7 | RH2815E | RH-AUDIO | Alarm Interface | 1 |
| 8 | RH2828S | RH-AUDIO | 16CH Power Supply Sequencer | 3 |
| 9 | RH28406W | RH-AUDIO | 4CH Amplifier 4 x 60W | 4 |
| 10 | RH2826P | RH-AUDIO | 1CH Amplifier 1x 240W | 1 |
| 11 | RH28412W | RH-AUDIO | 4CH Amplifier 4 x 130W | 10 |
| 12 | RH28406W | RH-AUDIO | 4CH Amplifier 4 x 60W | 1 |
| 13 | RH-T13 | RH-AUDIO | 3W/6W Ceiling Speaker | 280 |
| 14 | RH-HS43 | RH-AUDIO | 30W Waterproof Horn Speaker | 8 |
| 15 | RH-CS52 | RH-AUDIO | 20W Waterproof Column Speaker | 11 |