RH-AUDIO PA Sound System Project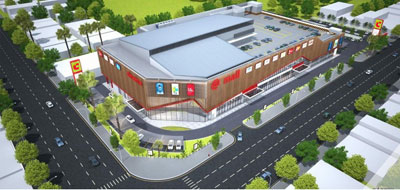 Big C, or Big C Supercenter is a grocery and general merchandising retailer headquartered in Bangkok, 
It has operations in three countries,namely Thailand,Vietnam and Laos. 
The Big C (HCM) Supercenter,with an area of 18,700 m2, total investment cost of VND 700 billion with a scale of 03 floors,in which the first floor is arranged with a dining,fashion,cosmetic and coffee shop chain; 2nd floor is Big C's supermarket system focusing on brands associated with Big C brand with price items,
household appliances,electrical appliances,
and 3rd floor is a children's play area. ,shops serving children's entertainment and CGV cinema system.
The Republic Plaza RH-AUDIO sound system includes main features as following:
- Paging/voice announcement.
- Background music.
- Voice/Emergency evacuation.
The equipment list:
| | | | | |
| --- | --- | --- | --- | --- |
| No. | Model | Brand | Description | Q'TY (PCS)         |
| 1 | RH-T13 | RH-AUDIO | 6W/3W Dual ConeCeiling Speaker | 85 |
| 2 | RH-CL18 | RH-AUDIO | 10W Pendant Speaker | 16 |
| 3 | RH-HS34 | RH-AUDIO | 15W Horn Speaker | 89 |
| 4 | RH-CS13 | RH-AUDIO | Waterproof Column Speaker | 24 |
| 5 | RH-APM01 | RH-AUDIO | Handy Microphone | 1 |
| 6 | RH331U | RH-AUDIO | 2CH Wireless Microphone | 2 |
| 7 | RH2816RT | RH-AUDIO | 16 Zone Remote Microphone | 2 |
| 8 | RH2816PT | RH-AUDIO | 16 Zone Paging Selector | 3 |
| 9 | RH2813AM | RH-AUDIO | 16 Zone Speaker Selector | 3 |
| 10 | RH2812CD | RH-AUDIO | CD/USB Player | 1 |
| 11 | RH2805M | RH-AUDIO | Timing Program Player | 1 |
| 12 | RH2815E | RH-AUDIO | Alarm Interface | 1 |
| 13 | RH2811P | RH-AUDIO | Pre Amplifier | 1 |
| 14 | RH2812M | RH-AUIDO | Monitor Panel | 1 |
| 15 | RH2866W | RH-AUDIO | 650W Power Amplifier | 3 |
| 16 | RH2828S | RH-AUDIO | 16CH Power Supply Sequencer | 1 |