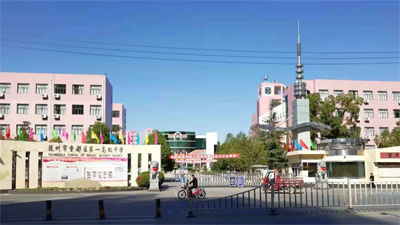 Zengdu Middle School, Suizhou City Hubei Province
The Zengdu Middle School is located Suizhou City Hubei Province,the campus covers an area of 171 acres.

Facilities include teaching building,student apartment, auditorium, libraries, multimedia hall, sport field etc.

The school has 80 classrooms, more than 6,000 students & 273 faculty members.




The school
IP based pa system
includes main features as following:
- Campus bell sound.
- Several paging/voice announcement modes (all zones, group zones,or individual zone).
- Background music (Paging signal overrides BGM signal).
- EMC alarm broadcast by being integrated with alarm system or triggered manually.
The equipment list:

| | | | | |
| --- | --- | --- | --- | --- |
| No. | Model | Brand | Description | Q'TY (PCS) |
| 1 | RH8100 | RH-AUDIO | IP Network Server | 1 |
| 2 | RH8100N | RH-AUDIO | IP Network Sub Server | 1 |
| 3 | RH8310 | RH-AUDIO | IP Network Microphone | 2 |
| 4 | RH2019 | RH-AUDIO | IP Network Alarm Interface | 1 |
| 5 | RH2033 | RH-AUDIO | IP Network Pre Amplifier | 3 |
| 6 | RH2260NL | RH-AUDIO | IP Network Mixer Amplifier 250W | 10 |
| 7 | RH31000W | RH-AUDIO | Power Amplifier 1000W | 2 |
| 8 | RH5010 | RH-AUDIO | IP Network Speaker | 10 |
| 9 | RH6060 | RH-AUDIO | IP Network Waterproof Column Speaker | 20 |
| 10 | RH-MS15 | RH-AUDIO | Wall Mounted Speaker | 360 |