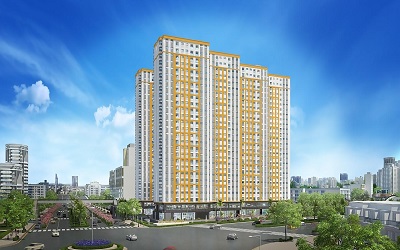 The complex of Chung Cu City Gate is located in HCM city, its total land area is 241,496.80m2 with commercial blocks, apartment buildings, schools and landscape areas.
The RH-AUDIO 32 Zone PA System is introduced in this project for its background music, multiple zones voice announcement and alarm broadcasting according to weekly schedules.





The whole 32 Zone PA System supports this complex with following outstanding features:
※Background Music
CD/DVD/MP3(USB)/FM/AM audio source are available.
※Remote Multiple Zone Paging
With paging modes: individual zone, group zones and all zones.
The remote paging microphone uses CAT5 cable connection, communication distance up to 1kms.
※Voice Evacuation
The PA system contacts inputs from fire center or smoke detector to activate the built-in pre-recorded voice message. And the emergency with highest priority to override paging and background music.
※Weekly Schedules
The whole PA system can be switched on/off according to the weekly schedules pre-set via RH2805M.
The equipment list:
| | | | | |
| --- | --- | --- | --- | --- |
| No. | Model | Brand | Description | Q'TY              (PCS) |
| 1 | | RH-AUDIO | CD/DVD/USB Player | 1 |
| 2 | | RH-AUDIO | Programming Timer/Player | 1 |
| 3 | RH2811P | RH-AUDIO | Pre Amplifier | 1 |
| 4 | | RH-AUDIO | 16 Zone Paging Microphone | 2 |
| 5 | | RH-AUDIO | 16 Zone Paging Selector | 2 |
| 6 | | RH-AUDIO | 16 Zone one Speaker Selector | 2 |
| 7 | RH2815E | RH-AUDIO | Alarm Panel | 1 |
| 8 | RH2836W | RH-AUDIO | Power Amplifier | 6 |
| 9 | | RH-AUDIO | 16CH Power Supply Sequencer | 1 |
| 10 | | RH-AUDIO | Ceiling Speaker | 390 |
| 11 | | RH-AUDIO | Wall Speaker | 35 |
| 12 | RH60V | RH-AUDIO | Volume control | 2 |
| 13 | RH30V | RH-AUDIO | Volume control | 14 |