RH-AUDIO16-Zone Public Address System Project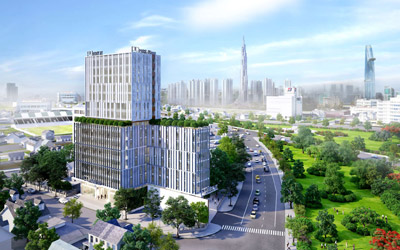 Park IX luxury office building is a harmonious combination of 16 storey modern architecture through the natural garden of Hoang Van Thu - a green island in the heart of Saigon.
Park IX is located at 8 Phan Dinh Giot Street, Tan Binh District, Ho Chi Minh City.
This is the best location on the international offices of multinational corporations, just three minutes from Tan Son Nhat International Airport,less than eight minutes from the center of District 1.
Park IX building is not only a grade A high-grade office building but also a building that matches the level of business people,helping businesses consolidate and build brand value, assert international status.
The Park IX pa system includes main features as following:
- Timing bell management.
- 16-zone remote paging/voice announcement modes (all zones, group zones,or individual zone).
- Background music.
- Voice Evacuation.
The equipment list:
| | | | | |
| --- | --- | --- | --- | --- |
| No. | Model | Brand | Description | Q'TY (PCS)         |
| 1 | RH-T13 | RH-AUDIO | 6W Ceiling Speaker | 49 |
| 2 | RH-HS34  | RH-AUDIO | 15W Horn Speaker | 4 |
| 3 | RH2816RT | RH-AUDIO | M/S Switch Amplifier  | 1 |
| 4 | RH2816PT | RH-AUDIO | 16 Zone Paging Selector | 1 |
| 5 | RH2813AM | RH-AUDIO | 16 Zone Speaker Selector | 1 |
| 6 | RH2846W | RH-AUDIO | 450W Power Amplifier | 1 |
| 7 | RH2811P | RH-AUDIO | Pre-Amplifier | 1 |
| 8 | RH2815E  | RH-AUDIO | Alam Panel | 1 |
| 9 | RH2812CD | RH-AUDIO | DVD/VCD/CD Player | 1 |
| 10 | RH2805M | RH-AUDIO | Program Timer | 1 |
| 11 | RH2821M | RH-AUDIO | M/S Amplifier Switch | 1 |
| 12 | RH2828S | RH-AUDIO | 16 CH Power Supply Sequencer | 1 |