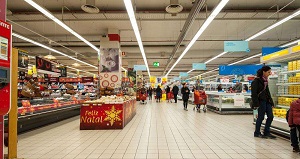 Whether it's a store, supermarket, shopping village or centre, if you need reliable public address and background music systems, RH-AUDIO has the depth of technical and practical experience necessary to get you communicating to your customers quickly.
The system has to perform clear distribution of messages, live broadcasting and emergency evacuation to the whole point of sale.
The implementation of a public address system in shops or supermarkets shall meet several requirements, the system must create an attractive and musical atmosphere, enhance the shopping experience for customers.
The RH-AUDIO hospitality PA solutions deliver consistent high-performance background music while adding to your customers' shopping experience. Enjoy exceptional audio quality from simple background music systems to more sophisticated multi zone distributed speaker systems with zone control for different music formats that are tailored for entrance areas, retail stores, shops, boutiques, and multi-room music coverage and paging capabilities.
The built-in event and scheduler function allows to program the cyclic distribution of informative and commercial messages, the remote desk paging microphones can be located in the reception area and the offices to distribute the live announcements by selecting zones/groups of zones as well as a general all-call key button, with pre-chime before announcements.