These
Bluetooth Mixing Amplifiers
are designed as convenient solution for small to medium PA installations with
USB/SD player,FM tuner and Bluetooth receiver
in a compact housing.
The model RH1060M or RH11120M is a switching power amplifier also called digital Class-D amplifier enjoys outstanding feature of high efficiency that could be greater than 90% and ow power dissipation (only a small heatsink used).
Inputs for microphone,line input,USB/SD player are governed by front panel volume controls,and the digital screen displays the working status of playing program,which can be controlled by the front panel buttons or the remote control.
And features two MIC inputs and one line input with
60/120 watt
s of amplifier power are available with either 70/100-volt or 4 to 16 ohms(Ω) output loads.
Also included a line level output for adding additional power amplifiers,and features complete protection is provided for output short circuit, overload, high temperature,peak current limiters.
Front panel details: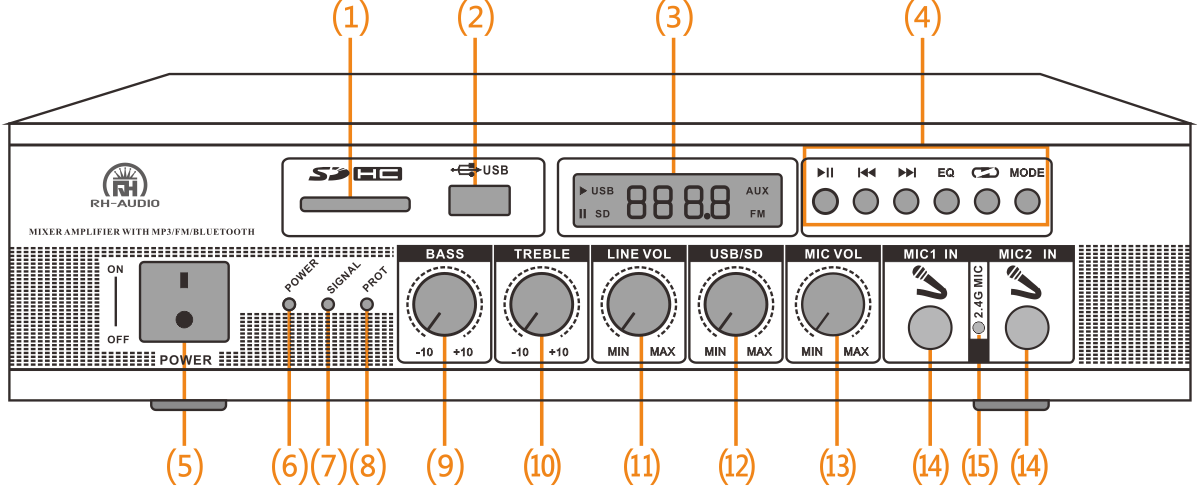 ⑴ SD Input Interface ⑵ USB Input Interface ⑶ Digital Display
⑷ Function Buttons ⑸ Power Switch ⑹ Power Indicator
⑺ Signal Indicator ⑻ Protection Indicator ⑼ Bass Controller
⑽ Treble Controller ⑾ Line Input Volume Controller ⑿ USB/SD/FM Volume Controller
⒀ MIC Volume Controller ⒁ MIC1 & MIC2 Inputs ⒂ Indicator for 2.4G MIC (expanded)
Rear panel details:

⑴ FM Antenna Input ⑵ Audio Line Output ⑶ Audio Line Input
⑷ COM terminal ⑸ Speaker Output Terminal 4-16 Ω ⑹ Speaker Output Terminal 70V
⑺ Speaker Output Terminal 100V ⑻ Power Supply (9) Fuse: 1A(60W),2A(120W)

Connection illustration:
Important notes for connections of speakers:
This amplifier has different loudspeakers outputs of 100V,70V and low impedance 4-16Ω.It's only possible to use one output at the same time,connecting more than one may damage internal parts of the amplifier.Each of 100V,70V,4-16Ω terminals must work with COM.

100V line output:
This system is most commonly used in for PA system. Only use 100 V line loudspeakers with transformers. All loudspeakers are wired in parallel and the sum of their power must not exceed the rated output power of the amplifier. It is advisable not to load the amplifier at more than 70% of its rated output power when using music sources.

70V line output:
This system is common in the USA,it operates on the same principles as 100 V line except that at rated output power the amplifier has 70V RMS on its output terminals.

4-16Ω low impedance output:
This output allows connection of low impedance loudspeakers without transformers,when two or more loudspeakers are used ensure that they are wired in such a way in Series,or in Parallel,or in Series & Parallel Combination that total load impedance remains between 4Ω and 16Ω.