The
RH-AUDIO 6-Zone USB/SD/FM/BT 100V PA Amps
are professional mixer amplifier with full on board zoning facilities and MP3 (USB/SD) player with FM tuner and bluetooth receiver.
Six zone outputs using the front panel selector with LED indicator allow you to control the audio in two or more areas individually,such as the office,assembly shop and warehouse in a factory,or the dining area,bar and bathrooms in a restaurant.
On front:
A built in digital display screen is incorporated on the front panel to show the playing status of audio source chosen.
A priority MIC1 input can be used to override all other inputs,enjoying auto-muting facilitates announcements at any time with a quick return to regular operation.
Each internal or external audio source features volume control so the audio can be tailored with bass & treble EQ, plus a master volume gives you a easy way to control all inputs.
On the rear are two mic inputs with 6.35mm jack,two stereo RCA inputs converting audio to mono mode internally,plus one RCA output for additional slave amplifiers.
These public address system mixer amps have an integrated protective circuit to withstand overload,short-circuits of output and high temperature,built-in fan with intelligent startup function via temperature detector can reduce energy consumption and for heat dissipation.
These PA installation amplifiers are designed with rack ears allowing the unit to be mounted into a 2U rack space.
All the sophisticated features make these amplifiers fairly ideal for PA systems with applications such as paging
announcement,background music and audio broadcasting in convention-halls,shopping centers,dining rooms,and recreation areas etc.
Front Panel Details:
Rear Panel Details: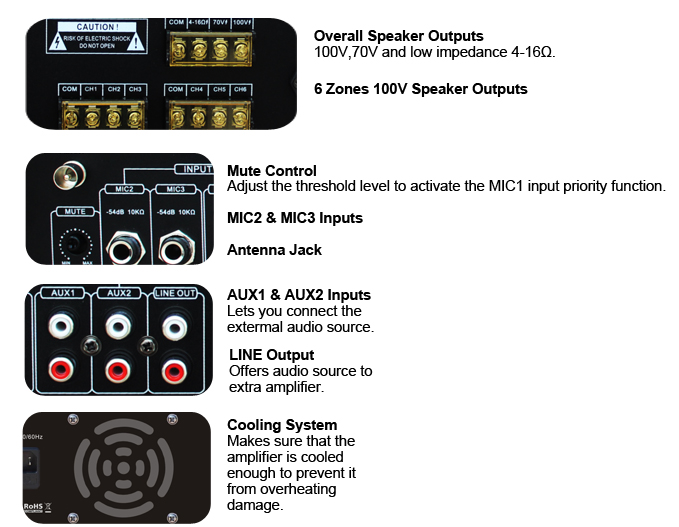 Interior Main Parts: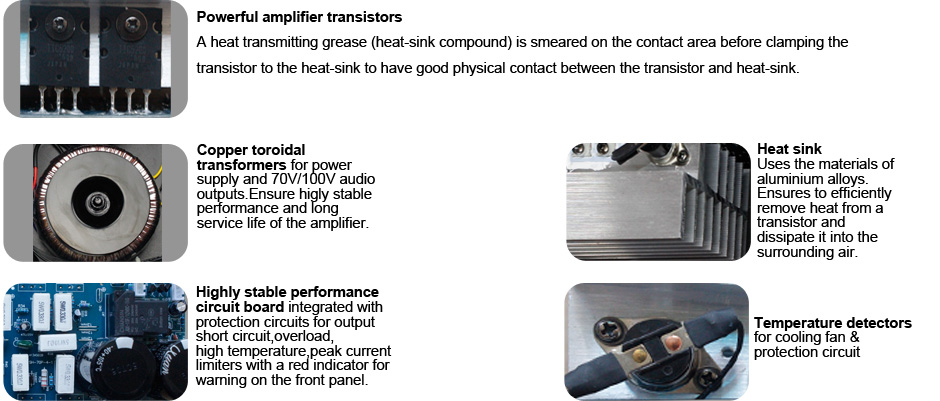 Reference Connection: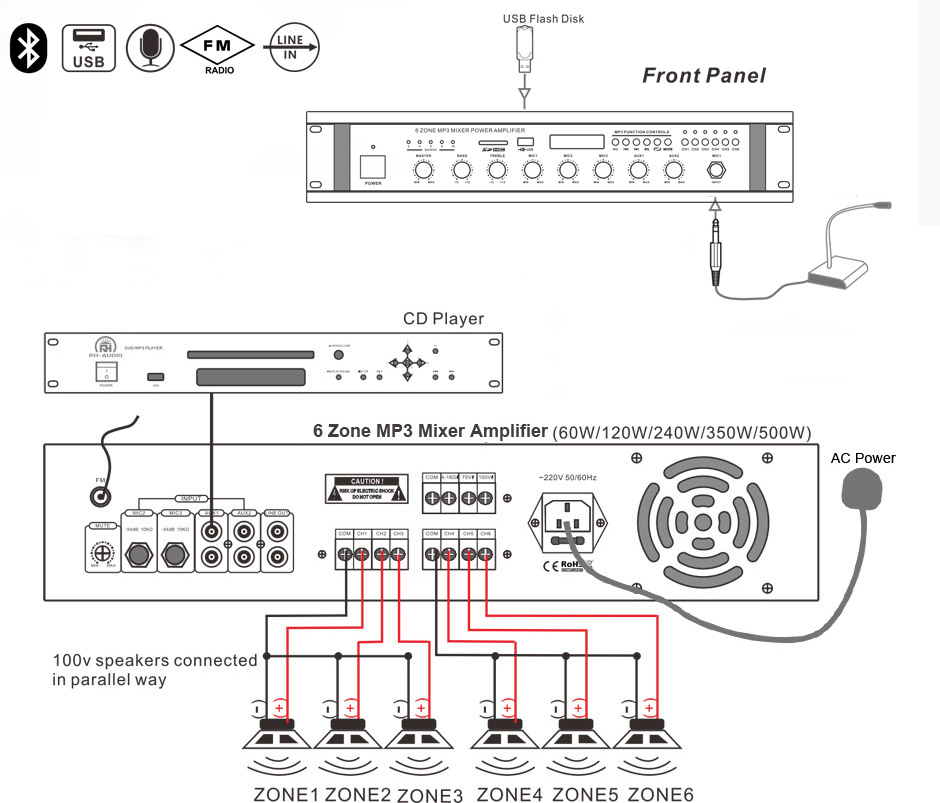 Note:
• 4-16 Ω output drives the speakers based on impedances.
• 70V/100V outputs drive the speakers with built-in step-down transformer.
• Do not use both the 4-16 Ω,70V and 100V terminals at the same time.
• Impedances indicated in the figures represent the total speaker system (load) impedances.