RH-AUDIO PA Sound System Project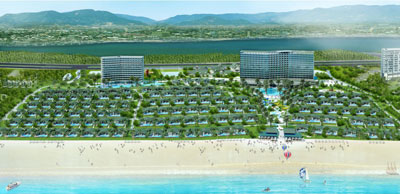 Movenpick Cam Ranh is the most luxurious 5-star resort complex in Vietnam located at the "Heart of Long Beach" and managed by the world's leading famous group - Movenpick Hotel & Resorts (Switzerland). 
Movenpick Cam Ranh Resort villas are designed in classic Champa style with 3.5m level and arranged in a staggered manner so 100% of all villas are facing the sea and seeing the sea.



The Republic Plaza RH-AUDIO sound system includes main features as following:
- Paging/voice announcement.
- Background music.
- Voice/Emergency evacuation.
The equipment list:
| | | | | |
| --- | --- | --- | --- | --- |
| No. | Model | Brand | Description | Q'TY (PCS)         |
| 1 | RH-T13 | RH-AUDIO | 6W/3W Dual ConeCeiling Speaker | 563 |
| 2 | RH-TH51 | RH-AUDIO | 20W/10W Coaxial Ceiling Speaker | 31 |
| 3 | RH-MS18 | RH-AUDIO | 10W Wall Mounted Speaker | 89 |
| 4 | RH-CS13 | RH-AUDIO | Waterproof Column Speaker | 5 |
| 5 | RH2816RT | RH-AUDIO | 16 Zone Remote Microphone | 1 |
| 6 | RH2816PT | RH-AUDIO | 16 Zone Paging Selector | 3 |
| 7 | RH2813AM | RH-AUDIO | 16 Zone Speaker Selector | 3 |
| 8 | RH2812CD | RH-AUDIO | CD/USB Player | 1 |
| 9 | RH2813RF | RH-AUDIO | AM/FM Tuner | 1 |
| 10 | RH2815E | RH-AUDIO | Alarm Interface | 1 |
| 11 | RH2811P | RH-AUDIO | Pre Amplifier | 1 |
| 12 | RH2812M | RH-AUIDO | Monitor Panel | 1 |
| 13 | RH3200W | RH-AUDIO | 2000W Power Amplifier | 3 |
| 14 | RH2828S | RH-AUDIO | 16CH Power Supply Sequencer | 1 |