The
BGM 6 Zoning Amplifiers
are designed with overall 70/100-volt or 4 to 16 ohms(Ω) loads and featured an industry
leading 6 zoned 100 volt load solution, skillfully engineered into a 2U housing with rack mounting holes on both ends
of front panel.
A variety of audio source options have been engineered into these multi zone amplifier series including MP3 player of
connecting external USB/SD drive,FM tuner,wireless bluetooth receiver,three microphone interfaces and two aux RCA ports.
60/120/240/350/500 watts of amplifier power are available,with provided an audio output to 6 different zones within the venue,
each zone has its own separate switch on/off manually operated on front panel,and each zone has its own LED indicator,shall light green for on.
Microphone input (MIC1) fitted on front panel features muting function by overriding the other inputs of MIC2,MIC3 AUX1,AUX2 with 0~30dB attenuation.
These sophisticated mixer amplifiers are ideal choices for the commercial distributed audio system solutions such as for clothing store,convenience store, coffee shop,classroom,restaurant,and so on.
Interior Main Parts:
Front Panel Details: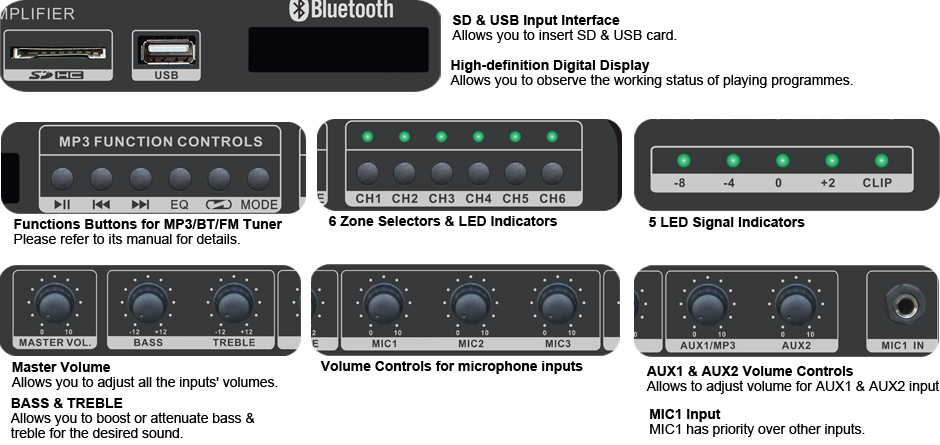 Rear Panel Details:

Reference Connection: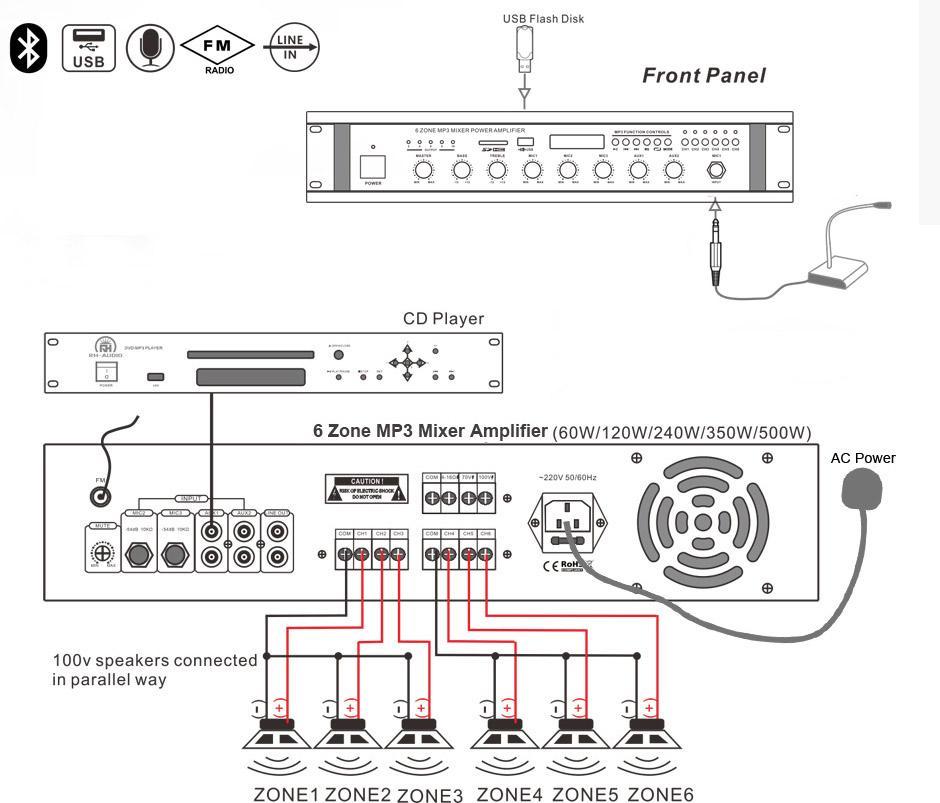 Note:
• 4-16 Ω output drives the speakers based on impedances.
• 70V/100V outputs drive the speakers with built-in step-down transformer.
• Do not use both the 4-16 Ω,70V and 100V terminals at the same time.
• Impedances indicated in the figures represent the total speaker system (load) impedances.