Descriptions of 2.0 Powered Wall Mounting WiFi Speaker RH609WF
The
RH-AUDIO 2.0 Powered Wall Mounting WiFi Speaker RH609WF
is ompatible for Android,iOS with APP control WiFi audio for independent control of music content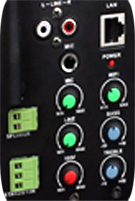 by multiple users via APP Streaming music directly from phone.Featured RJ45 network port for wired connectivity is a backup for the point where the WiFi signal is weaker and one LINE input for local audio source.
The system uses a master/slave speaker configuration,in the master speaker there is a two channel Class D stereo power amplifier with speaker outlets to power the Slave speaker.
Also includes one 100V input is available to receive the remote amplified signal then converted to low line signal internally,and one 6.35mm socket is ready for connecting the local wired microphone.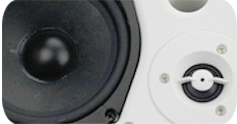 These speakers utilize drivers of 5" PP cone woofer and 1" titanium dome tweeter to allow for superior sound and clear intelligibility in a variety of environments.
And supplied with adjustable wall mounting brackets,and colors are optional in black and white,ideal for AV applications such as meeting rooms,multi-media rooms for small presentations.