The
10 Zone Paging Se

lector
RH2810P works together 10 zone speaker selector RH2813D and 10 zone remote microphone RH2810R to select up to 10 paging zones basically for the voice announc
ement system,can be expanded up to 40 zones.
It has two direct RJ45 microphone inputs, two link outputs for additional microphones, internal chime and priority channel mute, can be operated by selecting the zones using the selector pushbuttons,can also be operated remotely using the desktop 10-zone microphone console RH2810R,
and on the rear there are d
ipswitches as ID address to be distinguished by paging microphone console.
The multi-pin EMC input bus is ready to connect the alarm signal from the fire detector devices,by adding the alarm interface RH2815E the pa system can output a built-in siren signal or a user-recorded voice alarm or siren once any emergency occurs in the venue.
Reference Connection: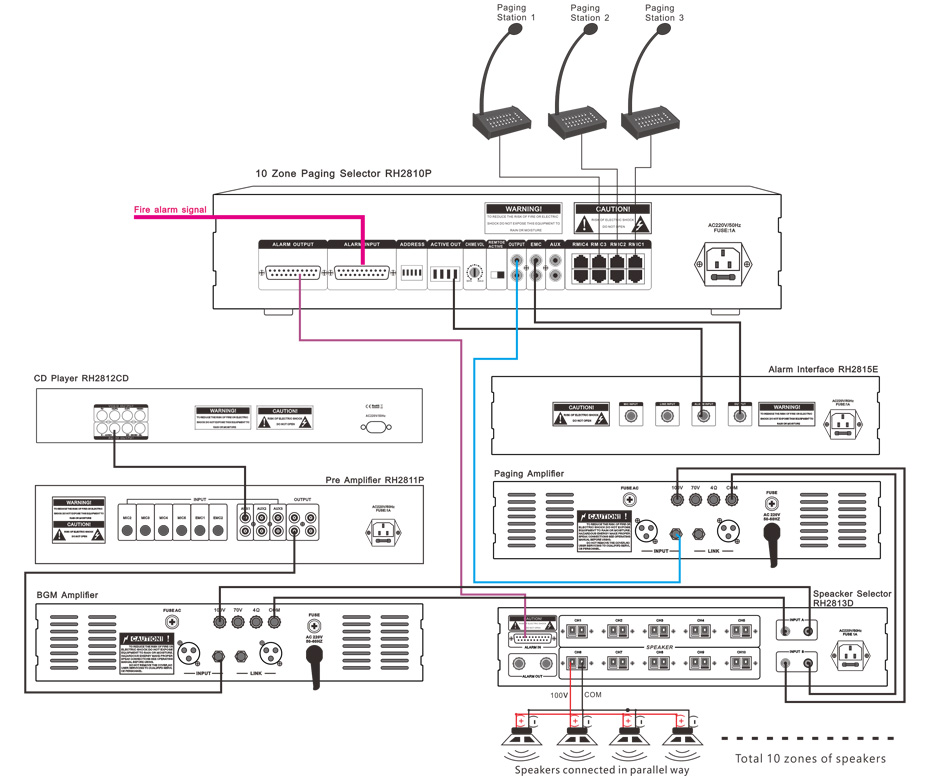 System's Main Features:
• Basic zone number is 10 zones,system can be expanded up to 40 zones by adding more devices.
• Paing modes: Individual zone,conbimed zones,all zones. ( The remote paging microphone can be placed far away up to 1,000 meters by using CAT cable).
• Background music: Differente zone can enjoy specific audio source.
• Emergency announcemnet: System can make alarm announcement with recorded messages in case of emergency.
• Priority modes: Paging/voice announcement overrides BGM; Emergency overrides all the other inputs.