RH-AUDIO PA Sound System Project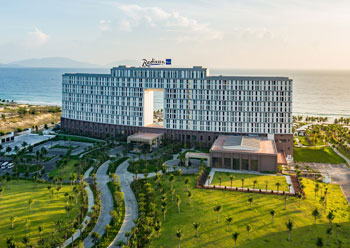 The Radisson Blu Resort Cam Ranh is nestled on Long Beach, a stunning 18km-long stretch of sand in Khanh Hoa province, on Vietnam's south-central coast.
The resort features 292 rooms, suites and pool villas, which range from a generous 45 square meters to an expansive 140 square meters with panoramic ocean views. The 36 villas also boast private pools, cabanas and alfresco dining areas – perfect for life's special occasions.
The Centum Wealth Complex RH-AUDIO sound system includes main features as following:
- Multiple Zone Paging/voice announcement.
- Background music.
- Emergency evacuation sound.
The equipment list:
| | | | | |
| --- | --- | --- | --- | --- |
| No. | Model | Brand | Description | Q'TY (PCS) |
| 1 | RH-TH51 | RH-AUDIO | 20W Ceiling Speaker | 180 |
| 2 | RH-MS15/4 | RH-AUDIO | 20W Wall Speaker | 60 |
| 3 | RH-S51 | RH-AUDIO | 20W Garden Speaker | 23 |
| 4 | RH2812CD | RH-AUDIO | USB/CD Player | 1 |
| 5 | RH2810P | RH-AUDIO | 10 Zone Paging Selector | 1 |
| 6 | RH2813D | RH-AUDIO | 10 Zone Speaker Selector | 1 |
| 7 | RH82000W | RH-AUDIO | 2000W Power Amplifier | 2 |
| 8 | RH81500W | RH-AUDIO | 1500W Power Amplifier | 3 |
| 8 | RH2811P | RH-AUDIO | Pre Amplifier | 1 |