RH-AUDIO Background Music and Paging Project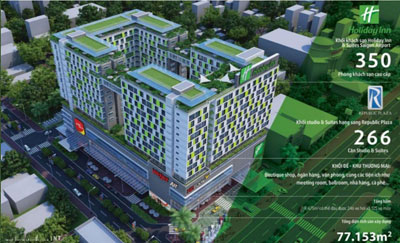 Located at Cong Hoa street,Tan Binh district- The busiest and also most dynamic development artery of Ho Chi Minh city.It is an original architecture stylist complex including two towers:
The tower A is the International hotel of Holiday Inn & Suites Saigon Airport with 350 rooms according to the 5 star international standard operated by InterContinental Hotels Group (IHG),the top world hotel operator.including 250 hotel rooms with 28,9m2 area,and 100 Suites with 58-59m2 area.
The tower B includes 266 Office-tel & Suites with the diversified area from 47 to 104m2 equipped with100% luxury interior decoration.

The Republic Plaza RH-AUDIO sound system includes main features as following:
- Paging/voice announcement.
- Background music.
- Voice/Emergency evacuation.
The equipment list:
| | | | | |
| --- | --- | --- | --- | --- |
| No. | Model | Brand | Description | Q'TY (PCS)         |
| 1 | RH-TH61 | RH-AUDIO | 30WCoaxialCeiling Speaker | 310 |
| 2 | RH-MS18H | RH-AUDIO | 10WWall Mount Speaker | 122 |
| 3 | RH-300MC | RH-AUDIO | 6W Flat Wall Mounted Speaker | 5 |
| 4 | RH2812CD | RH-AUDIO | CD/USB Player | 5 |
| 5 | RH2815E | RH-AUDIO | Alarm Interface | 5 |
| 6 | RH2811P | RH-AUDIO | Pre Amplifier | 5 |
| 7 | RH2866W | RH-AUDIO | 650W Power Amplifier | 6 |
| 8 | RH31500W | RH-AUDIO | 1500W Power Amplifier | 5 |