Description of Bluetooth 100v Line Amplifier with USB Player:
This compact mixer-amplifier provides 60 watts of output power with with bluetooth,intergral USB audio player power, and 5 inputs including 3 balanced MIC (MIC1 has another port of 6.35mm socket on front panel),
2 unbalanced AUX, each with individual volume controls.
Features include a button "VOICE PRIORITY" that the MIC1 can be set with priority overriding the other inputs.
Separate controls for treble bass and allow adjustment of tonal quality,TREBLE ontrols the amount of cut or boost of treble frequencies above 10 kHz.BASS ontrols the amount of cut or boost of bass frequencies below 100 Hz.Colorful indicators on front panel include the ones of power,signal,peak and protection.
This amplifier is compatible with 70V,100V,4-ohm,and 8-ohm speaker systems,it is a hugely versatile component of your background music and paging system.
Front Panel Details: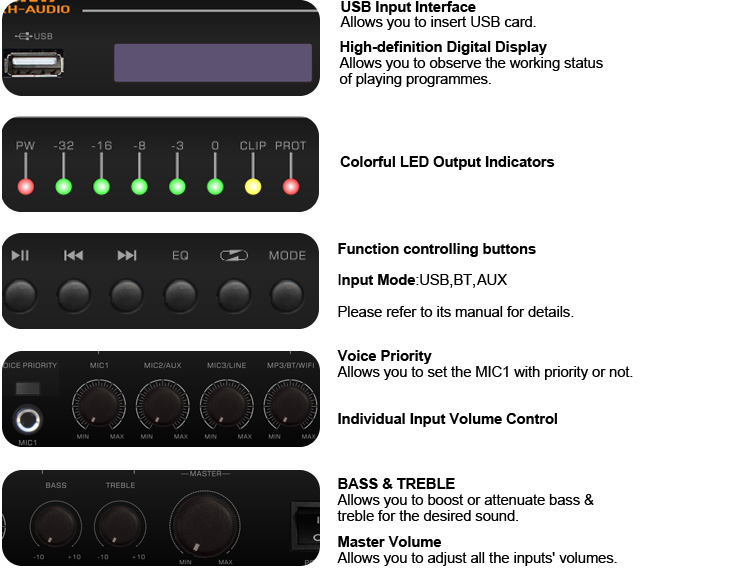 Reference Connection: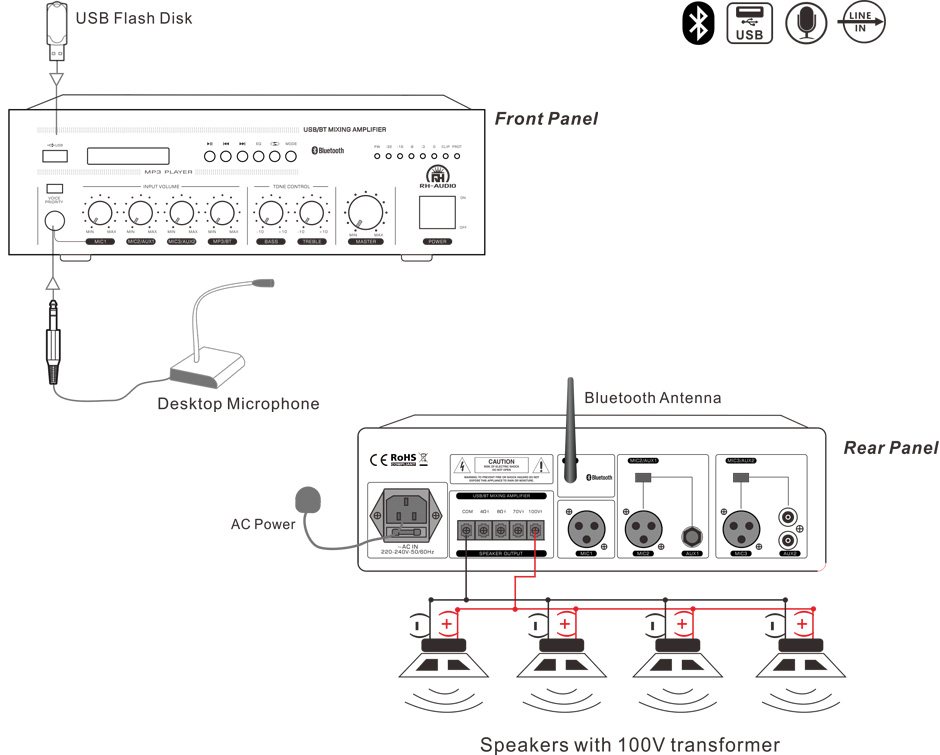 Note:
This amplifier has different loudspeakers outputs of 100V,70V and low impedance 4Ω/8Ω.
It's only possible to use one output at the same time,connecting more than one may damage internal parts of the amplifier.
Each of 100V,70V,4Ω and 8Ω terminals must work with COM (common) terminal.
Specifications of Bluetooth 100v Line Amplifier with USB Player


| | |
| --- | --- |
| Model | RH60MB |
| Rated Power | 60W |
| Output Terminals | Low impedance: 4ohms (Ω),8ohms (Ω), Voltage line:70V( 81.7 ohms),100V(166.7ohms) |
| MIC Input | 10Kohms(Ω) 9.2 mv,unbalanced |
| LINE Input | LINE:10K ohms(Ω) 260 mv,unbalanced |
| Frequency Response | 30Hz ~ 15k Hz (± 3 dB) |
| THD | < 0.5% at 1kHz,1/3 rated power |
| S/N | Line:85 dB , MIC:> 80 dB |
| Tone | BASS:100 Hz (±10dB) , TREBLE:10k Hz (±10dB) |
| Protection | AC fuse,short circuit,overload,high temperature |
| Power Cable | (3×0.5 mm )×1.5M (standard) |
| Power Supply | AC 220V ± 10% 50- 60Hz (Optional) |
| Power Consumption | 80W |
| Net Weight | 5.00kg |
| Dimension | 75(H)x280(W)x240(D)mm |