RH-AUDIO 13-Zone Public Address System Project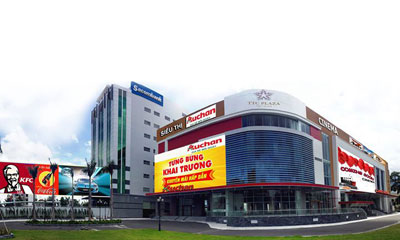 TTC Plaza Tay Ninh shopping center is within the framework of a complex area project invested by TTC Group, including 3 construction blocks: Trade Center, Office and Hotel.
The project is located at the roundabout between Cach Mang Thang 8 and the 30/4 street, which is considered the intersection between the busiest administrative and commercial business route in the city.TTC Plaza Tay Ninh has a total area of over 15,000m²,the structure consists of 1 semi-basement and 3 floating floors, designed in a unique cubic shape, creating a highlight of modern and luxurious architecture in urban areas. central Ninh Ninh city.
The project integrates a wide range of utility services from reputable brands in and outside the country, such as consumer supermarket system,bookstore,entertainment,
food,fashion,electric and spa areas,cinema system...

The TTC Plaza RH-AUDIO sound system includes main features as following:
- 15-zone remote paging/voice announcement modes (all zones, group zones,or individual zone).
- Background music.
- Voice/Emergency evacuation.
The equipment list:
| | | | | |
| --- | --- | --- | --- | --- |
| No. | Model | Brand | Description | Q'TY (PCS) |
| 1 | RH-TH51 | RH-AUDIO | 20WCoaxialCeiling Speaker | 142 |
| 2 | RH-HS34 | RH-AUDIO | 15W Horn Speaker | 45 |
| 3 | RH-MS04 | RH-AUDIO | 6W Flat Wall Mounted Speaker | 78 |
| 4 | RH-2816RS | RH-AUDIO | 16 Zone Remote Microphone | 1 |
| 5 | RH2812CD | RH-AUDIO | CD/USB Player | 1 |
| 6 | RH2815E | RH-AUDIO | Alarm Interface | 1 |
| 7 | RH2816S | RH-AUDIO | 16 Channel Audio Matrix | 1 |
| 8 | RH2836W | RH-AUDIO | 350W Power Amplifier | 8 |
| 9 | RH2846W | RH-AUDIO | 450W Power Amplifier | 5 |
| 10 | RH2828S | RH-AUDIO | 16 CH Power Supply Sequencer | 1 |