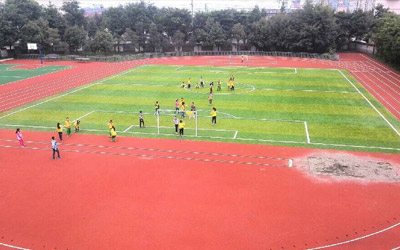 The Wenchang Primary School is located in Shandong Province,where total approximately 1,500 teacher staff and students work and study,the school possesses 40 classrooms,1 office building,1 library building,1 dining hall, and 5,000 s.q.m playground.






The school uses RH-AUDIO IP Based Sound System offering following tasks:
School voice announcement.
School's weekly bell sound schedules.
Background music.
Play gymnastics music.
Conducting a fire or an emergency drill.
The equipment list:
| | | | | |
| --- | --- | --- | --- | --- |
| No. | Model | Brand | Description | Q'TY (PCS) |
| 1 | RH2813RF | RH-AUDIO | Digital AM/FM Tuner | 1 |
| 2 | RH2812CD | RH-AUDIO | CD/USB Player | 1 |
| 3 | RH2811P | RH-AUDIO | Pre Amplifier | 1 |
| 4 | RH2828S | RH-AUDIO | Power Supply Sequencer | 1 |
| 5 | RH8100 | RH-AUDIO | IP PA Central Controller | 1 |
| 6 | RH8300 | RH-AUDIO | IP Microphone | 3 |
| 7 | RH2022 | RH-AUDIO | IP Pre Amplifier | 1 |
| 8 | RH2360N | RH-AUDIO | IP Mixer Amplifier 350W | 3 |
| 9 | RH2500N | RH-AUDIO | IP Mixer Amplifier 500W | 2 |
| 10 | RH2019 | RH-AUDIO | IP Alarm Matrix | 1 |
| 11 | RH5010 | RH-AUDIO | IP Active Speaker (black) | 40 |
| 12 | RH31000W | RH-AUDIO | 1000W Power Amplifier | 1 |
| 13 | RH-CS706 | RH-AUDIO | 60W Waterproof Column Speaker | 11 |
| 14 | RH-CS712 | RH-AUDIO | | 6 |
| 15 | RH-MS15/4 | RH-AUDIO | 20W Wall Mount Speaker | 38 |