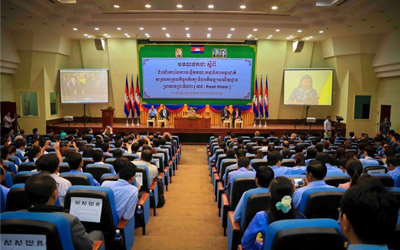 The UYFC Cambodia is an official organization,that is committed to:
1. Providing vocational training and education on science, technology, and life skills to youths.
2. Promoting education on healthcare and healthcare service delivery with quality and equity to youths;
Expanding leisure, sports, and arts activities aimed at building youth's health and physical appearance and creating solidarity among youths.
3. Promoting the youth participation in the development so that they will have positive image and avail themselves of opportunities to make use of their talents in sports and youth education, in the decision making process and in the development of the family, community, country and the world.


The UYFC Cambodia uses RH-AUDIO Sound System offering background music,voice announcement and integrated with its separate alarm system.
System includes main features as following:
- Presentation room's sound reproduction system.
- Several paging/voice announcement modes (all zones, group zones,or individual zone).
- Background music (Paging signal overrides BGM signal).
- EMC alarm broadcast by being integrated with alarm system.
The equipment list:
| | | | | |
| --- | --- | --- | --- | --- |
| No. | Model | Brand | Description | Q'TY (PCS) |
| 1 | RH2812CD | RH-AUDIO | CD/USB Player | 1 |
| 2 | RH2813RF | RH-AUDIO | Digital AM/FM Tuner | 1 |
| 3 | RH840U | RH-AUDIO | 4CH Wireless Microphone | 1 |
| 4 | RH2811P | RH-AUDIO | Pre Amplifier | 2 |
| 5 | RH2816RT | RH-AUDIO | 16 Zone Remote Microphone | 1 |
| 6 | RH2816PT | RH-AUDIO | 16 Zone Paging Selector | 1 |
| 7 | RH2813AM | RH-AUDIO | 16 Zone Speaker Selector | 1 |
| 8 | RH2815E | RH-AUDIO | Alarm Panel | 1 |
| 9 | RH32000W | RH-AUDIO | 2000W Power Amplifier | 2 |
| 10 | RH31500W | RH-AUDIO | | 1 |
| 11 | RH-MS15/6 | RH-AUDIO | 40W Wall Mount Speaker (white) | 60 |
| 10 | RH-TH26 | RH-AUDIO | 30W 2-way Ceiling Speaker | 40 |
| 11 | RH-CS824 | RH-AUDIO | 240W Waterproof Column Speaker | 5 |