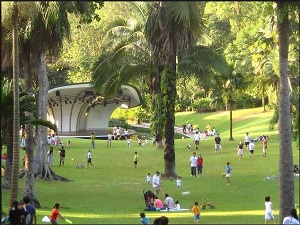 Visitors at parks are always on the move, and it's essential to provide them with the ideal immersive experience, even as they travel from one area or attraction to another.
That's why every park needs flexible, weather-proof audio system that can be deployed anywhere in the park for unified paging, background music system, delivering of safety messages and instructions.
RH-AUDIO offers the most complete variety of all-weather speaker models including waterproof horn speakers, waterproof column speakers and landscape speakers, which can be integrated into virtually any part of venue or attraction to produce a unique atmosphere throughout the park.
RH-AUDIO networked audio system can meet most demanding needs of more complex applications based on current and future needs, can give you the flexibility to design and configure your system according to the scale and size of your facility, this sophisticated IP based system offers multiple ways to manage the process of automating and ensuring delivery of safety messages, instructions and background music.
Benefits of BGM in parks:
Music is crucial for a spectacular performance, it energizes, tunes up the emotions, sets the right mood and gives unforgettable experience.
By influencing the emotions of your visitors you make your park more attractive and gain popularity.
Visitors who feel happy and joyful spend more on entertainment and services.
Professionally selected music will help to fascinate both children and adults.