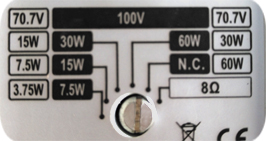 The
RH-AUDIO Waterproof 2 Way On Wall Speaker RH-MS820
or
RH-MS860
is designed with woofer and tweeter, the woofer is constructed from polypropylene and has a rubber surround, the directional tweeter has a ferrofluid cooled silk dome.
These speakers employ waterproof speaker drivers,robust HIPS cabinet and alloy bracket,feature
water resistant IP55
level.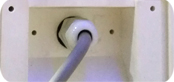 A rear selectable knob allows you to switch among 8 ohm, 70 V and 100 V inputs,and a length of connecting cable is connected to the speaker for receive the audio signal from the amplifier.

These sophisticated speakers RH-MS820 or RH-MS860 can realize high-fidelity music and speech reproduction, ideally suitable for indoor and outdoor applications like theme parks, swimming pools, shopping malls, offices, fitness centres, conference room and other presentation environments.