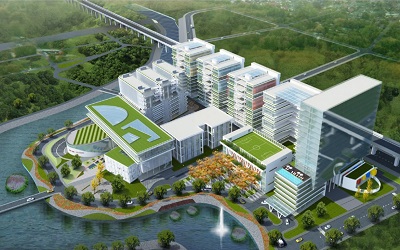 Van Lang University
RH-AUDIO 10 Zone Public Address System Project
The Van Lang University is one of the first private universities in Vietnam under the administration of the Ministry of Education of Vietnam,the university is located in Ho Chi Minh City, Viet Nam,it was named after the ancient Vietnamese kingdom of Văn Lang.
The university introduces RH-AUDIO 10 Zone PA System offering the campus background music, voice announcement and integrated with its separate alarm system.
System includes main features as following:
- Campus bell sound.
- Several paging/voice announcement modes (all zones, group zones,or individual zone).
- Background music (Paging signal overrides BGM signal).
- EMC alarm broadcast by being integrated with hotel alarm system.
The university uses pa system uses the 6inch Dual-cone Dynamic Ceiling Speaker model RHT13 for offices,and the compact Wall Mount Speaker model RH-MS04 for the classrooms.
The equipment list:
| | | | | |
| --- | --- | --- | --- | --- |
| No. | Model | Brand | Description | Q'TY (PCS) |
| 1 | | RH-AUDIO | Ceiling Speaker 3W/6W | 27 |
| 2 | RH-MS04 | RH-AUDIO | Wall Speaker3W/6W | 61 |
| 3 | | RH-AUDIO | 10 Zone Paging Selector | 1 |
| 4 | | RH-AUDIO | 10 Zone Speaker Selector | 1 |
| 5 | RH2810R | RH-AUDIO | 10 Zone Remote Microphone | 1 |
| 6 | RH-APM01 | RH-AUDIO | Emergency Handy Microphone | 1 |
| 7 | RH2811P | RH-AUDIO | Pre-Amplifier | 1 |
| 8 | | RH-AUDIO | DVD Player | 1 |
| 9 | RH2815E | RH-AUDIO | Alarm Panel | 1 |
| 10 | RH2866W | RH-AUDIO | 650W Power Amplifier | 2 |