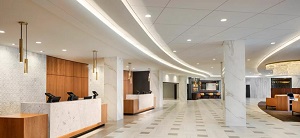 RH-AUDIO Commercial Sound Installation Solutions can help to achieve the ideal BGM atmosphere for your hotel establishments.
The RH-AUDIO hotel lobby sound system is perfect when you need background music that is high quality and customizable.
This sound system allows you to deliver different audio sources to each zone with independent volume control. It also has a amplifier or audio interface that enhances announcement intelligibility by muting the volume of the music when voice announcements are made. Hotel lobbies usually have a number of adjoining areas. In this particular case BGM is delivered to four separate zones that consist of the main lobby, shop, lounge, and elevator hall.
Especially the RH-AUDIO IP-based distribution system delivers powerful audio management for hotels via centralized,its server touch screen enables users to select different music sources and adjust volume in specific zones.
The RH-AUDIO comprehensive range of matched ceiling and surface wall loudspeakers deliver high-quality, distributed sound in your hotel facilities,and the sound system sets the mood for guests who are just entering the hotel and during their stay.