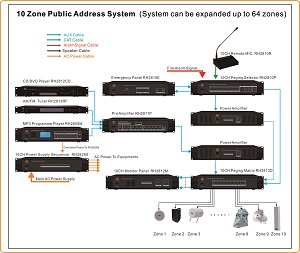 Descriptions:
The 10 zone public address sound system mainly include background music,remote zone paging system,voice evacuation system.Applicable for offices,hospitals,schools,shopping malls,commercial buildings etc.
1.Background Music: CD/DVD/MP3(USB)/FM/AM audio source are available.
2.Remote Paging System: The remote paging microphone uses CAT5 cable connection,communication distance up to 1kms.The spokesman can speech to individual zone,group zones and all zones at the
paging station.
3.Voice Evacuation System:The PA system contacts inputs from fire center or smoke detector to activate the built-in pre-recorded voice message. And the emergency alarm system with highest priority to override paging and background music,it will broadcast the pre-recorded voice alarm message to all zones.
4.Weekly schedule Management:The whole PA system can be switched on/off according to the scheduled time pre-set via RH2805M. And the background music or pre-recorded voice can be played/stopped according to the scheduled time pre-set.
Main Features:
1.Individually selected or any combination including all for announcement.
2.Background music.
3. Fire alarm broadcasting.
4.Paging announcement & alarm override background music.
5.The whole system can be switched on/off automatically according to the scheduled time set through the RH2805M.
Product items list:
1. RH2812CD  - CD/DVD Player x1
Features built-in MP3 player with a USB slot for connecting external U Disk.
Supports more formats:
DVD,VCD,HDCD,CD,DIVX,SVCD,MPEG4,MP3, WMA,PICTURE-CD,CDR/RW.
2. RH2813RF  - AM/FM Tuner x1
Incorporates a digital PLL synthesized tuner for precise reception of AM and FM signals.
Provides the full range of FM frequency from 87.5 to 108 MHz. The AM frequency range is from 522 to 1620KHz.
3. RH2805M - MP3 Program Player x1
The RH2805M offers the management on the power supply of the whole pa system by being switched on/off automatically as per the scheduled time set by the user.
4. RH2811P - Pre Amplifier x1
Deals with the audio signal and supplies to power amplifier for background music.
5. RH2815E - Emergency Panel x1
Used in a public address system to produce an alarm sound either by a short-circuit signal to trigger auto-alarm or by a manual push button,it can output a built-in siren signal or a user-recorded voice alarm or siren,with the built-in 60-second recording IC,users may record their own voice alarm or siren.
6. RH2810R - 10CH Remote Microphone x1
Supports selecting/paging up to 10 zones.
Can be placed far away from RH2810P up to 700 meters by being connected using network cable.
7. RH2810P - 10CH Paging Selector x1
Paging to 10 zones of speakers working with 10-zoned paging matrix and 10-zoned remote microphone,
can be expanded up to 40 zones.
8. Power Amplifier A x1
For paging announcement  signal,power rates 360W/460W/660W/1000W/1500W/2000W available.
9. Power Amplifier B x1
For background music,power rates 360W/460W/660W/1000W/1500W/2000W available.
10. RH2813D - 10CH Paging Matrix x1
Supports 10 zones for background music,paging,and alarm broadcasting.
11. RH2812M - 10CH Monitor Panel x1
Designed with built-in loudspeakers for monitoring the status of amplifiers.
12. Loudspeakers
Wide range of speakers are available such as Ceiling Speakers,Wall Mount Speakers,Column Speakers etc.
13. RH2828S - 16CH Power Sequencer Sequencer x1
Supports preventing high powered equipment from overloading the AC mains.