The
RH-AUDIO RH-T41
employs 4 inch speaker drive with two power output taps 3W and 6W using built-in 100V transformer.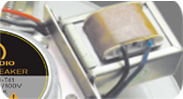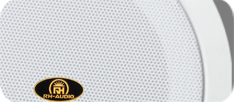 This model is designed with metal baffle and grille enjoying ultra slim speaker's construction designed for low installation depth.


Quick fit clamps allow easy and quick mounting into false ceilings. Its high sensitivity full range, light paper diaphragm and high efficiency magnet are the reason of high performance in middle sound frequency, ideal choice in public address systems such as shopping malls, hotels, coffee bars etc.
Tips of Installation:

                                   • Retract the 2 Snap Clamps on the speaker into          • When Clamp Arms press against the ceiling, 
                                   their open position.Then push the speaker up              the Snap Clamps will rotate and clamp down 
                                   through the ceiling opening.                                          closed to the ceiling surface.