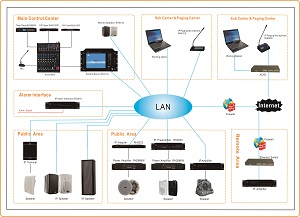 RH-AUDIO Intelligence IP Based PA System for needs of complex distribution and scheduling.
The RH-AUDIO PA System over IP refers to PA paging and intercom systems that use an IP network instead of a centralized amplifier to distribute the audio signal to paging locations across a building or campus,or anywhere else in the reach of the IP network. Network-attached amplifiers and intercom units are used to provide the communication function.At the transmission end,a computer application transmits a digital audio stream via the local area network,using audio from the computer's sound card inputs or from stored audio recordings. At the receiving end, either intercom modules (sometimes known as IP speakers or terminals) receive these network transmissions and reproduce the analog audio signal.These are small network appliances addressable by an IP address just like any other computer on the network.
Such systems are inter-connected by the networking infrastructure and thus allow loss-less transmission to remote locations across the Internet or a local area or campus network. It is also possible to provide for multiple or relocatable transmission control stations on such a network.
The features and benefits are:
1.Dynamic grouping of zones,with no fixed limit on the number of pre-defined groups or the number of members within the group.
2.Public address controllers can connect standard Public Address amplifers to the IP communication system.
3.High quality digital background music (BGM) support for in-house music distributieon.
4.Special software application provides customisable floor plan or schematic views on a touch screen PC workstation.
5.Provides a digital message store,playback and recording of announcements with no no fixed limits on duration or capacity.
6.The IP microphone provides flexible options of paging/announcement to every single zone,or group of zones,or all zones.
7.24-hour time schedule and independant volume and tone controls for each output pre-set through the software for daily routine, special events music broadcasting,such as festival,exam and work.
8.Alarm Interface supports emergency broadcasting in cases of natural calamity,threats,fire and evacuation of people.
9.Within an intercom system master stations allow an operator to select any combination of predefined groups to direct an announcement to. This allows intercom slave stations to function as a "mini-PA" system.
10.As a standalone PA system within a building or campus and integrated with its structured cabling system or existing data networks.
The system can be easily expanded in the future by adding more IP PA equipments.